It is 3 am as I write this. I have been awakened by a tropical storm that makes the rain splash through my open window. And by the thumping bass from the "Flame Tree"-disco nearby. That and the sense in my body that something is not right. 60 hours have passed since I left Denmark. 40 of those 60 hours I have spent traveling. I have crossed 11 time zones. I am shattered. I need to sleep a whole day. But I have slept only 3 and a half hours. My body is awake. It thinks it is day.
Tonight I have arrived in the Marshall Islands. The worlds – I believe – 3rd least visited country. Only Tuvalu and Nauru receives less visitors.
Marshall Islands is mainly known for US nuclear testing in the area around the Bikini Islands.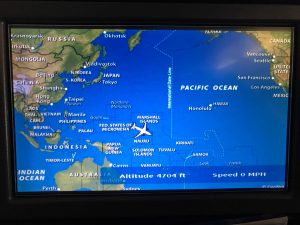 Including the hydrogen bomb "Bravo" with a force equal to 1.200 Hiroshima bombs. "Bravo" blew more than 1,5 inches of radioactive dust over nearby atoll Rongelap causing massive damage. 27 years later it was revealed that the Americans had known both the direction of the wind and the location of the inhabited Rongelap Island. In other words, the Americans most likely simply wanted to test the effect of a hydrogen bomb on humans.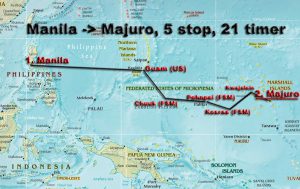 It would not be fair to say that the Marshall Islands is an easy place to get to. Only served by air weekly from Nauru (the worlds least visited country), and twice-weekly from Honolulu and Guam (the latter with 4 stopovers). I flew through the night from Manila to Guam. Jumped on the United Airlines Island hopper and flew through the following day with 3 stops on Micronesian Islands and one stop in Kwajalein in Marshall Islands before finally – and well into the night – reaching Majuro the main island of the Marshall Islands.
My day of flying started like this:
"My system says that your ESTA was rejected", says the very kind and very chubby immigration officer in Guam. I show him my American visa. "But why do you have a visa?" he asks. "Because I have been to Iraq", I reply". "Well," he says "but why do you have two US visas then?". " 'Cause the American embassy in Copenhagen mixed things up" I tell him. "Sounds strange", he replies, but then stamps me in. My Pacific adventures are about to start.
The first person I meet on the Island Hopper is Erwin. He is on his way to his home situated 4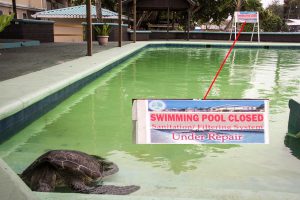 hours by boat from Chuuk, the first stop of the Island Hopper. He tells me this in a funny English dialect. It sounds a bit like he is singing when he talks. He has sailed on container ships most of his life he tells me. Mostly to Japan and Korea. Now he has retired, even though he looks very young.
In Pohnpei Yiatha takes his seat. Her name sounds like it is "Itha" but on her Marshall Islands immigration form I can see that she writes "Yiatha". Marshall Islands has one of the highest obesity rates in the world. Yiatha is no exception. She is big as a draft horse. She is a nurse and works in the capital Majuro. Or "Maaar-ju-ro" as she pronounces it. Her face is as tied together as an old tobacco purse. Eyes, nose and mouth seem all too close in her otherwise enormous face.
"How many people live in Majuro?" I ask her. "Maybe 150.000," she replies. "How many in all of Marshall Islands, then?". "300.000" she says with conviction in her voice. It puzzles me because my Moon guidebook tells me that 60.000 people live on the Marshall Islands half of which lives in Majuro. My moon book may be old (from 2003) and the birth rate of the Marshalls may be one of the highest in the world. Still I doubt Yiathas figures.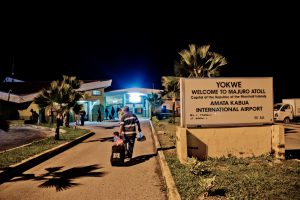 My taxi driver from the airport in Majuro goes by the name of Joe. I ask him how many people live in Majuro. "15.000" Joe replies with confidence.
We drive through the night. We drive through the night on a narrow strip of land in the middle of the Pacific. Majuro is one of the largest atolls in the world. An atoll is a string of coral islands created after a volcano over thousands of years has submerged in the ocean, leaving a circle of land formed by corals growing on the edges of the now long lost volcano. Usually the water left behind in the central lagoon is more shallow and of a greener color that the surrounding blue sea.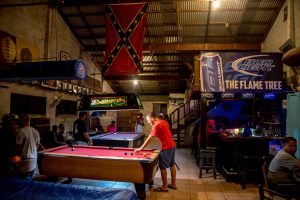 The trip from the airport to my hostel with the unpretentious name "Flame Tree Tourist Trap Backpacker Hostel" takes 35 minutes. 35 minutes along the edge of a circle surrounded by the sea. In the middle of nowhere. As far from Denmark as anyone can be.
Joe has two kids that are now almost grown-ups. "They are good kids" he informs me "they don't drink and they know what they want with their lives".
Soon I am about to discover that the same does not apply for the majority of their countrymen.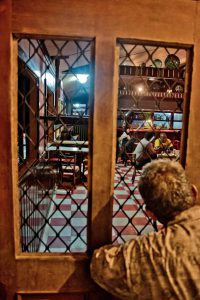 Walden is drunk as a skunk. Together with Danny he works the night shifts at "The Flame Tree Tourist Trap Backpacker Hostel". Normally a single room in this region costs from 80 USD and upwards. Here the price is less than half of that. On tripadvisor someone wrote that it is because you cannot sleep for the loud music from the disco, because it serves as a brothel and beacuase the locals often get in fights here. An exciting place as it sounds and just the right place for a person like me who likes places with character.
The flame tree bar consists of two high ceilinged bar rooms and a giant outdoor balcony where the wind comes cooling in. Around pool tables and under a confederate flag hordes of local guys hang out many of which are looking like Micronesian Rastafari lovers. It looks like a setting from a seedy movie. All eyes are upon me as I enter the bar. I feel that I fit in like a saddle on a pig. Instantly three fat ladies accompany me and ask if I will buy them a beer.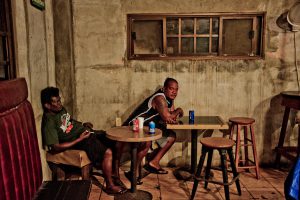 On the entrance to the hostel a poster explains the dangers on Hepatitis. (the next day I read in the local paper that Marshall Islands has just been declared in a state of emergency because of outbreaks of both Zika and multiple cases of Hepatitis A)
The first room they show me is 2×2 meters with a stained, unmade bed taking up all the space. There is no window and the aircon does not work. It is boiling hot and all air stands absolutely still. The toilet is very old but not very clean. As a benefit the room has walls which I am soon to discover can be of great benefit. "40 bucks a night" Walden blurredly announces.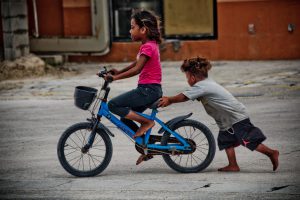 The next room I get to see is in the backpacker department. It looks like something in Khao San road, Bangkok in the 90s. There are 10 rooms of which none are occupied. Nevertheless, and in despite of the advanced hour of the day, none of the rooms have been cleaned. I ponder when the last backpacker has set foot in this miserable place. Walden goes and finds a broom and a bucket. Meanwhile Danny appears with a huge bowl full of an enormous number of keys and tries to find the right ones.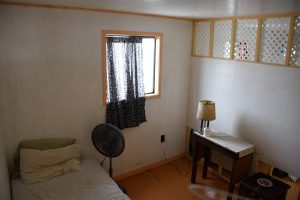 My twenty dollars backpacker room contains a single bed, a standing fan, a table lamp standing on the floor and an ashtray topped with cigarette buds. And four walls. Or 4 half walls that is because the top 25% and the bottom 25% are replaced by wooden bars. Clever really because it ensures a better airflow than the oven rooms I have just seen. Unfortunately, though the rooms come with the obvious disadvantage that you can look straight in to your neighbors' room.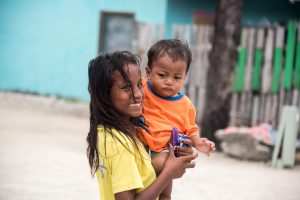 Unless the prostitutes actually like being watched I begin to think that this might actually be a place for backpackers after all. And despite of the fact that I have not actually brought a backpack but only a cabin trolley I accept my lovely room with both a bed and – partly – walls and start to settle in.
Danny is the quiet type. He seems a little bit like an island inbreed. Or maybe I am just tired and reading him wrongly. Maybe he is just cool. Maybe he just doesn't give a shit. For sure he is not fast. But he is okay. At least I think he is. After about fifteen minutes he manages to find my keys. There are locks everywhere. I have to go through four different locks from the street to my room. I need many keys.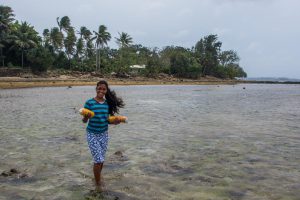 I have just sat down on my bed when Walden comes running. "A woman has just arrived. I want to give her your room" he says. Why she cannot have one of the other 9 rooms is not crystal clear to me. My best guess is that they are embarrassed that they have not yet been cleaned. But it is fine with me since the corner room they want to give me instead has a small table where I can write, two windows so I can circulate the air through the room.
"I don't know" Walden says when I – while he is cleaning yet another room – ask him how many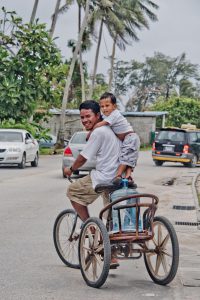 children he has. "Six maybe", he says. A son lives in the US with an American wife and their child. That much he knows. "In Washington" he says. "What does he do?" I ask. "I think he is working construction or something" Walden says. "What does his wife do?". "Maybe she is a housewife" Walden says. Apparently he also has a daughter in Hawaii. Later on I discover that Walden wife has gone to live with the daughter in Hawaii. "That is why he drinks so much" Danny says.
"No ladies in your room" Danny informs me. I do not intend to. But it surprises me a bit if the hostel really doubles as a brothel. Later on I notice a sign in the reception announcing that guests in the rooms cost 10 dollars extra so I assume that what Danny is telling me is only concerning the price.
The woman who is getting my room turns out to be very young, very Japanese, very small and very white. She is an anthropology student and is planning to stay for a month. "Good luck" I am thinking. "I like houses" she says. "And people". As a part of her study she wants to make an assignment on Marshallese "houses and people". However she seems to stay forever by herself (for the next couple of days I don't see her talk to anybody) Later that night she does however inform me that our communal bathroom is lacking water.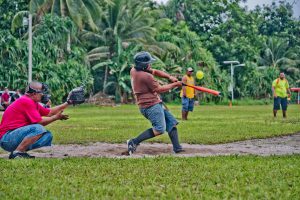 If I stand on my chair, I can look into the room of the Japanese girl even though there is a room in between. If I lie down on the top bunk of my bed I can see into the nearest 6 rooms. My lamp – the only light source in the room – can only be turned off by pulling the plug causing sparks to fly in all directions. My fan runs on overdrive. It has no cover. I am afraid it might cut of one of my fingers if I forget about it during night and reach out for something. On the floor in front of it I spread out my clothes and shoes to try to avoid me walking in to it if I need to go to the loo during night.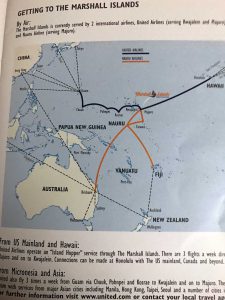 Back in the bar Oysterboy orders Beef Oystersauce at 7 USD. It is dark at the balcony and the chubby girls are looking at me with inviting eyes. It is so dark that I cannot see what I put into my mouth. Sometimes something crunches between my teeth – I think it is a bit of sand.
I meet Julio Caesar from El Salvador when he is trying to find out why I am nosing around with my big fat Nikon. I speak to him in Spanish. But I am tired and I keep on mixing French words into the conversation. In the end we switch to English. Julio is a helicopter mechanic. "My korean friend over there is a helicopter pilot" he says. "Normally Koreans are very correct" he says. "But this guy is not. He likes to drink and have fun. And he likes little girls". "How old?" I ask him. "Not above 15" he says.
I figure that if I hang around a little longer they might offer me a free helicopter ride. But I have no ambition that my life's first helicopter will be with a presumably very old helicopter operated by a pedophile. So I tell Julio Caesar that it has been a long day and I need to rest.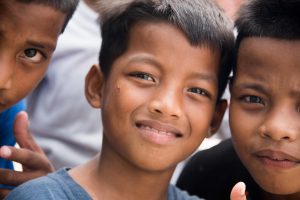 I do not know what it is with these strange countries where no tourist come. But I like to be here. In despite of everything. I find these countries exciting. I have been here for 8 hours and have already written 4 pages. "What are you going to do out on these strange islands" my friends asked me around a 1.000 times before I came away. "I don't know" I simply replied. Because how do you explain this. I wanted to talk to people. Hear their stories, stay at a brothel/hostel, avoid a pedophile helicopter pilot, eat Oyster sauce with sand, photograph billiard playing rastamen. And meet Erwin, Uiatha, Joe, Danny, Walden, the Japanese anthropologist who sat alone in the corner and Julio Caesar.
Later on I will meet Isaac and hear his sad story.
And tomorrow I want to traverse the whole country on a motorbike. From the east end called Rita to the west end called Laura.
The rain is light now and I can finally open my windows again. It is now 4.29. The disco has stopped playing and the prostitutes and the chubby and flirty girls and their rasta boyfriends have all headed home. My body thinks it is day. I have to force it to sleep now. I have to force myself to stop writing.