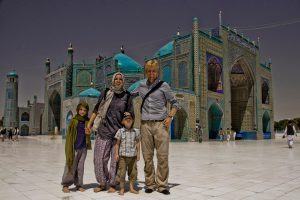 My daughter Ava was born December 2006. My son Jonas was born June 2009.
We have always brought them wherever we wanted to go ourselves. We have never had any problems. Maybe other kids are different. For us it has always been easy. Easy and fun.
Here are the most common questions we get about traveling with children. For more photos please go to the bottom of this page.
What are the most adventurous trips you have done with the kids?
Going to Mazar-e-Sharif in northern Afghanistan overland from Uzbekistan in 2014. Going from Hargeisa to Berbera in Somaliland (Somalia) 2015, Staying with the Mursi and Banna people in the bush in Omo Valley, Ethiopia (2015), staying with the horse nomads of Bokonbaevo, Kyrgyzstan (2014) – see here for more adventures with and without the kids.
Is there anywhere you wouldn't bring the kids?
Yes of course. The exact same places as I wouldn't go myself. Presently places such as: Northern Mali, southern Afghanistan, most of Syria, most of Iraq etc. As Charlotte always says to me "If it is safe enough for you to go – then it's safe enough for all of us to go".
Would I take responsibility if you chose to bring your own kids to crazy places?
Absolutely not.
Is it difficult to travel with kids?
It takes more planning and requires parent teamwork. Our children are highly adaptable and are generally happy when their parents are happy. Also they are very curious and like experiencing new. We – the parents – are generally happy when we travel. Everything is good – Everybody wins.
When your children are very young they will not remember anything from their travels?
I am not too fond of this question. They still have fun. They are still full time with their parents. They still get to travel with us also when they are older and can remember more. Maybe this question is  asked
by people who are too afraid to travel and are looking for excuses. And except from maybe your boss I can't see who wins if you stay at home.
Photo Gallery – travelling with children (chronological 2006-2023):