This is a story about fugitives risking their lives only to end up in a country they had never heard about. It is also a story about dogs that are trained to bite foreigners. About death penalty and about a motorbike belonging to an Afghan baker. As a bonus you will learn If I managed to find the infamous Hansolo B.
But first some Nauru fast facts:
Nauru has the World's highest rate of diabetes and obesity.
And yes: Nauru IS a real country with UN membership
10.000 people live in Nauru including approximately 1.200 refugees
Nauru was earlier known as "Pleasant Island"
Nauru is not ring shaped like most islands in the pacific. It is shaped like an Oyster.
Nauru was a German colony from the end of the 19th Century. After WW1 it was colonized by an alliance of UK/Aus/New Zealand.
Occupied by Japan in WW2
Independent since 1968
Around 1960/70 Nauru was per capita the richest country in the world
The wealth came from Phosphate mining. Some people think the phosphate was created because of a chemical reaction between bird shit and the corals on the island.
Phosphate mines have today run almost dry and Nauru is now one of the poorest countries on earth.
Main income today comes from running a refugee camp for Australia.
Australia (I believe) has since late 2013 sent all their arriving refugees to either Nauru or Papua New Guinea
Many have criticized the conditions in the refugee camp.
A tourist visa for Nauru costs 50 Australian dollars (AUD). A journalist visa costs 8.000 AUD (!).
Nauru is served by air from Brisbane, Marshall Islands (once a week) and Fiji (once a week). In 2012 on our family round the world trip I tried for two months to get from Fiji to Nauru. But all flights were cancelled then because of a bad relationship between the countries governments.
A kilo of onion delivered by boat costs AUD 3,70. If delivered by plane it costs AUD 11,70. Boats come with goods every two month and many supplies typically run dry after 3 weeks.
Nauru's government has chosen to block both Facebook and Messenger.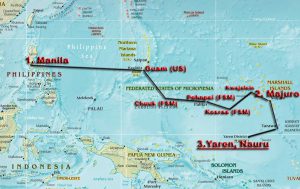 " Have you ever been convicted to a sentence of death for which you have not received a free pardon?" so reads one of the questions when applying for a Nauru visa. Think about it. Also it states that you need to supply Chest X-ray and blood samples and prove that you have no "serious abnormality". Getting a visa to Nauru is not a walk in the park.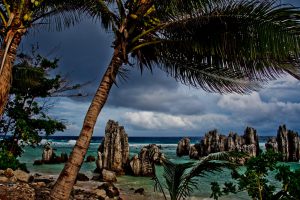 My friend Frode Uhre waited a year with no reply from Nauru immigration. The office was then moved to Brisbane, Australia and visas were now easily processed. When Frode arrived in Nauru he went to the immigration office and asked why they hadn't responded. A big man looked at him, shrugged and laughed in his face.
So I wrote Brisbane happy that things would then hopefully run smooth. "I regret to inform you that the immigration procedure has now moved back to the island of Nauru" Brisbane wrote me. Lovely.
I wrote Nauru immigration. Nothing happened. I then wrote Brisbane and fortunately Trent in the Brisbane office escalated things to the guy in charge on the island and things were then rapidly fixed.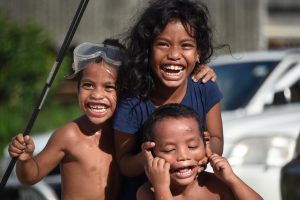 Three fellow Danish citizens and members of the Danish parliament were lately rejected when they applied for Nauru visas. No reason was given but presumably because two of them had criticized the way the refugees were treated on the island and the third one presumably just for being Muslim.
Right at the time I go to Nauru the country hits the world news. Trump ends the free trade deal with the pacific countries including Nauru and nobody knows what this will mean to the refugee exchange deal the Obama administration has already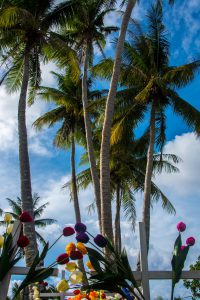 made with Australia guaranteeing 1.200 Australian refugees an echange with the US. 1.200 refugees that Australia have sent offshore and who are split between Nauru and Papua New Guinea.
According to the White House press officer the new administration is going to honor the deal. But since then Trump has hung up the phone with the Australian PM and told him that the "US does not want any more Oklahoma bombers". So nobody knows where it is going to land – but refugees of Nauru I have been talking to would like me to convey the message that they would very much like to be exchanged and that they think Trump is a lunatic and a fool.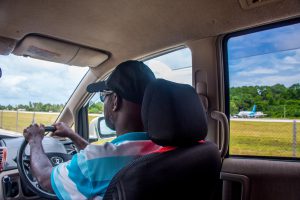 My plane to Nauru is ahead of schedule even though Nauru airlines in recent years have been known as not the most reliable carrier in the world. Mohammed – the only taxi driver in the whole of Nauru – takes me on a tour around the island. I try to find a cheaper hotel than the 125 AUD Menen hotel I have already booked. We fail. We find no availability elsewhere.
Mohammed fled Mogadishu, Somalia. By boat he came to Australia and was sent straight to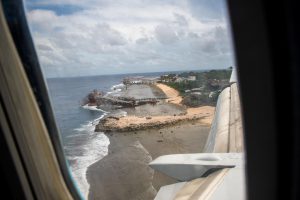 Nauru. Almost a year he has been locked up in the Detention Centre. Now he has been granted permission to stay permanently by Australia. But unless he takes the free flight and the 13.000 USD and returns to Somalia he can never leave Nauru. Not even to mainland Australia.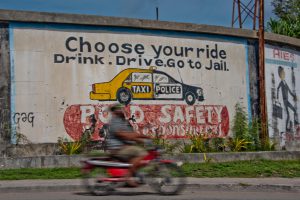 "Bring some rocks and a stick if you are walking into town" one of the refugees working in the hotel tells me. Menen hotel is situated about 30 minutes' walk out of Yaren town. There are wild dogs on the island. And on top of that locals who do not like foreigners apparently also train their domesticated dogs to attack. Sweet place.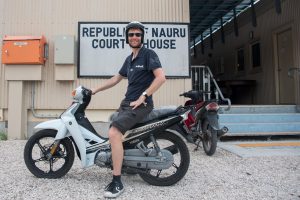 I want to rent a small motorbike to get around. Gul a nice Afghan refugee working in the reception tells me that no one hires out MCs anywhere on the island. "But you can just borrow mine", he adds. The next day it unfortunately has a flat tire. "No problem" Gul says "I will get a bike from my friend". He takes me to the bakery where 7-8 really young and gentle afghan boys all around 19 years old work baking huge quantities of bread. They speak Hazaragi (a dialect of Persian) but they fortunately understand the few greetings I throw at them in Farsi. I show them a few photos on my iPhone of me and my girlfriend and our young children visiting Mazar-e-Sharif in Afghanistan in 2014. After that Ali Riza – the owner of the small motorbike – brings me the keys and a helmet. He insists that I should not pay for it.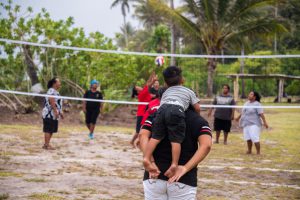 The next two days I roam around the island on my little MC. The road around the island is only 18 km long. I also drive "Topside" as the middle of the island is known and there I see a few of the phosphate mines.
After having saved AUD 7.950 by only applying for a tourist visa I still decide to try and play undercover journalist for a couple of days. On my tiny motorbike I drive inland to Camp 1 of the detention Center. In front of the gate a big Aussie has no time for chit chat. I try to ask him how many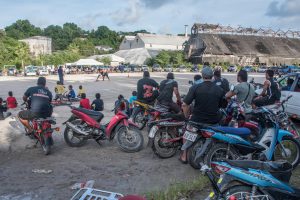 refugees are inside the camp. "I am gonna have to ask you to leave now" he almost shouts at me. So besides peeking at a fence with some barbed wire and a few barracks I don't get to see much.
Fortunately, it is not forbidden to talk to the refugees that have had their applications granted and are now official Australian refugees and are living and working outside the Detention Center. I meet "Hassan" a secret place on the island. "Hassan" is not his real name. Most refugees hint at what is happening at the detention center but none of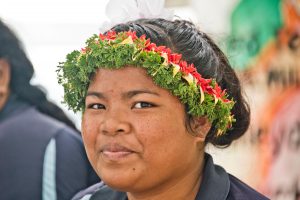 them want to put their name to it. "Hassan" doesn't care. "The World should know what is happening" he says "the world should now that people in that detention center are tortured. Some are raped. Many are beaten. It is like a prison up there"
While I do doubt that the government of Nauru will ever stumble upon my website or my facebook-page (provided that they can follow Facebook when they have blocked it in their whole country) I still choose to alter "Hassans" name.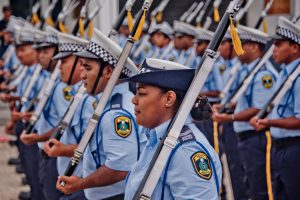 Apart from playing undercover journalist I – by pure luck – happen to be in Nauru on their independence day. On my small MC I roam around. I watch the flag raising ceremony and the policemen and firefighters and women with flowers in their hair as they march in front of the parliament. I watch the fishing boats that have been out since 4am as they come back ashore with their catch of the day to see who wins the competition of catching the largest tuna and the largest marlin. In the afternoon I head to the "Tigers Oval" to see "The Traditional Games Festival".
It starts with a strange game where the one team sort of "serves" a heavy ball about the size of a brown coconut. The other team has to catch it. That is about as much as I understand of the rules. Even the Nauru spectators sitting beside me have no idea of the rules. They are just here to see the main event – the wrestling.
Next competition is the Tug-o-war. The Yaren team from the capitol city surprisingly beats the mining women. The mining men on the other hand are about twice the size of the Yaren city boys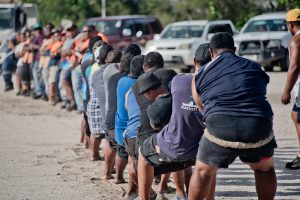 and win almost without a fight.
When the wrestling finally is on cars are parked all the way around the huge perimeter of the "Tigers Oval". In and on the cars spectators are waiting impatiently. When the (I believe) biggest sports star of the nation "Bronco" a world class 62-69 kg weightlifter – who apparently also knows how to wrestle – enters the stage the crow goes wild. In a cacophony of honking horns many a wrestling game is decided. Bronco narrowly loses the final to the dissatisfaction of the crowd.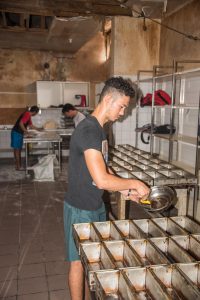 When I return Ali Rizas motorbike I of course do so with a full tank. In the secret "glove department" beneath the seat I put 20 AUD pr day I have had the bike. The same rate as I paid for renting a MC in the Marshall Islands a few days earlier. I know Ali Riza would never accept that I pay him in person.
Before I came to the Pacific region I had written the Menen hotel. To my great amusement the reply came from someone signing himself "Hansolo B". It made it my mission find whatever gentleman was hiding behind such an ingenious name. And find out if this is a normal name in Nauru. Hansolo turns out to be of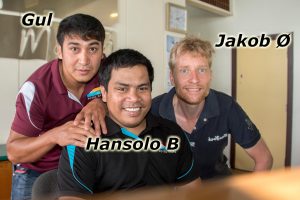 Nauru origin and works the reception at the Menen Hotel. And as it turns out: Hansolos father just liked Star Wars. And in the event any female readers are considering coming to Nauru to court this fine young gentleman then I am sorry to inform you ladies that Hansolo B unfortunately only likes men (Breaking News!). Hehe. That's all for now folks.