My book "In Every Country" is being published by danish publishing house Turbine on October 7th 2021.
Unfortunately – for now – it is only coming out in Danish.
After almost 30 years of travelling – and 1,5 years of writing and editing – my book has yesterday been sent to Latvia for printing.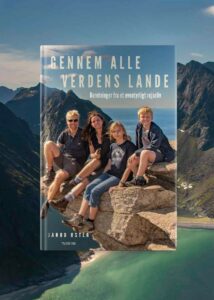 Title: "Gennem alle verdens lande – Beretninger fra et eventyrligt rejseliv" (In Every Country – Tales from an adventurous life in travel)
By: Jakob Øster
Publishing House:
Turbine
ISBN: 9788740674071
Hardcover, stitched
488 pages incl 310 Photos and 16 route maps
Includes 53 fact boxes with practical info.
Includes Q&A and guides on how to travel independently with kids and how to visit 100 countries. The book is in Danish.
Read more and buy the book:
HERE
.