It rains in Manilla. The rain is light like dust. From the rooftop terrace on the 6th floor I watch the Malate district of central Manila. In the distance I see a cross above a church, a hotel with a
rooftop swimming pool and a faded sign advertising for "Western Union Money Transfer". Behind the roofs I get a glimpse of the Pacific. The Pacific where I am shortly heading. I am about to cover a long distance and fly for a long time and I am a bit anxious if everything will go according to plan. I hope that I – in the darkest hours of the night – will be allowed to transit the American territory of Guam. And I hope nothing goes wrong during the next 28 hours that will include no less than 5 airport stopovers.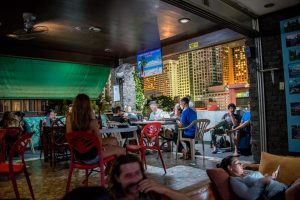 On the other side of Adriatico street sweaty working men fixing a corrugated roof are making loud noises with their tools. Under the roof is an open street kitchen with green plastic chairs and tables. The rain is slowly picking up and the sweaty men hurry to get their tools under cover. Down
there I could probably get the rice noodles I am consuming now for less than half of the 2,5 dollars I am paying here at the terrace at Wanderers Guesthouse. But then I wouldn't be surrounded by hippie backpackers in tank tops drinking banana shakes while forever looking at their phones.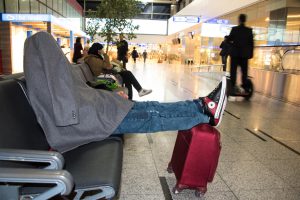 The trip taking me to Manila went like this: I ate and drank beer in the SAS lounge in Copenhagen. I ate and drank beer on the plane to Istanbul. I ate and drank beer in the Turkish lounge in Istanbul. I ate and drank beer on the plane to Manila. I slept 5 hours on three seats in the back of the plane. I woke up and ate and drank juice. Easy as hell. I hope that things will stay that way.
The weather is getting better in Malate. Worn mopeds, old bicycle taxis with sidecars and a big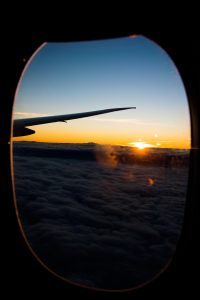 square Filipino bus – looking like a cross between a 1950 American school bus and a huge tin of sardines – rumbles past in the street below me. On the front next to a picture of Jesus it says "Black Nazarene" with giant letters.
I am worrying I might get problems in Guam. At my United online check in earlier today I was told that I need to check in in person. I am pretty sure this is caused by my rejected ESTA application (you need an ESTA to transit US territory Guam). Having travelled to some of the US listed "badlands" in the past I instead had to get a real US visa. A visa that I did get – after hours of filling out forms,
hours of waiting in a freezing cold Copenhagen street and after that inside the Copenhagen embassy and after a personal interview. So I should hopefully be ok.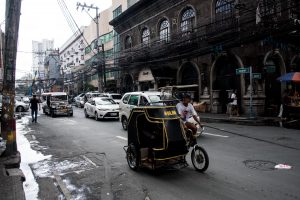 During the last year I have been fortunate enough to interview three famous travelers. You can read the interviews here:  https://www.expedition-everywhere.com/travel-writing/. These three fantastic guys each on average have around 100.000 social media followers. Many followers means benefits – so I thought I would create this page and try the same. However, at less than 1.000 followers I have more than 99% of the way to go…but hopefully this page will pick up some likes along the way.