"If you don't want to come then I will just walk it myself" my 78-year old father said.
The Samaria Gorge located in the southwest of the Greek island of Crete is the longest gorge in Europe. The distance through the gorge is 13 kilometers with a drop of altitude of 1.200 meters. After the gorge exit there is a further 3 kilometers to the village of Agia Roumeli. There one can relax at the black-stoned beach and wait for the ferry – the only mean of transportation to lead you back to the civilization.
My sister and I thought we better join. Along we brought each our oldest child – Ava and Hjalte both aged 11.
Pickup time was 05.45 am and after almost two hours of harrowing mountain driving we stood at the freezing cold summit. A thousand people on average walk through the gorge in season we were told. But not many people were in sight this morning since only one bus had arrived before ours. The clouds were under us surrounding the mountain tops like a fluffy blanket and behind us the sun was rising and painting the day yellow and red. The scenery looked like a picture from the screensaver on my computer.
My dad had chosen a nice pair of loafers almost of same age as himself as his walking shoes. Previously they had served him well when walking in Spain he informed us. Myself I had chosen a pair of flat soled converse sneakers – assuming that walking down a hill for a few kilometers wouldn't be all that hard..
My dad started at a frantic pace. He thought it would be a good idea if we did not get overtaken by the slow people in our bus (..) or anyone from the following buses. He almost ran down the steep stairs. The path consisted mainly of big rounded, slippery rocks – fortunately most had been cut into steps on the steepest part in the beginning of the trek.
After a very steep first half hour everyone started to overtake us. A pretty Spanish girl asked my dad what age he was. When he replied that he was 78 years old her whole group spontaneously clapped. Had they noticed his brown loafers they might have clapped even louder.
After two hours we had walked 3,8 kilometers. Unfortunately, my dad had slipped a few times and now he had an open cut on his arm. "No matter" he said – assuring us that walking a further 12 kilometers would be no problem.
But the pace went down. The next two hours Mister Øster Senior had to go sideways down every step. That way he thought his loafers had the best tracking. The kids ran ahead with not a worry in the world – building small stone figures along the way. The trekking speed went down to 1,5 kmph hour before my sister and I were finally, reluctantly allowed to carry our fathers bag. After four hours we had walked 7 kilometers with a drop of one kilometer. Turning back up was not a very desirable option (though we all longed for walking up a bit instead of forever down). The nine kilometers ahead of us we hoped would be relatively flat and we fantasized about a smooth gravel path.
The toilets were dumps. Smelly wooden sheds with a hole in the ground. But the rest of the facilities were nice. Rest places with wooden benches and natural springs. Mules waiting to carry up injured people. And even a HeliPad near rock houses in the old traditional village of Samaria.
When we finally reached the almost dried out riverbed the path of course turned out to consist of almost only pieces of rock. Rocks, rocks, rocks. Every step demanded concentration. A pair of trekking boots or just a good pair of running shoes would have been nice. Or even walking sticks (that I have always found silly). Anything but loafers and converses really.
Apart from that the walk was stunning. The sun was out – the temperature was good – the sun came through the trees. And a spectacular vista as we passed through the 'Iron Gates' of the
gorge. The most famous place in Samaria – just three meters wide and with cliffs towering straight up reaching 300 meters.
Fortunately, we picked up some pace when the path became less steep and my dad didn't have to walk sideways most of the time. After thirteen kilometers through the gorge, too many rocks and stones to count and almost 6,5 hours of walking we finally made it. At the exit a small restaurant sold exactly what we needed. Draught beer and soft ice. We would have gladly also paid ten times the respective price of 3 and 2 Euros.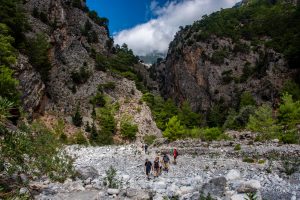 The last three kilometers to the beach and ferry town of Agia Roumeli that we had dreamed would be on flat, even road of course turned out to be on uneven cobbled stones. When we arrived to the beach the kids (and my sister) looked like they had only walked their usual two hundred meters home from school. My dad and I were totally exhausted and just laid down on the black gravel beach and went straight to sleep in the sun. We had done it. Together and in silly shoes.
After an hour on a ferry as the sun was setting a bus took us home to our hotel. It was another
two-hour drive on narrow mountain roads with huge drops to the side. Almost 15 hours after pickup we finally returned. Kulia – the sweet receptionist – could inform us that to avoid sore legs we 'just had to eat bananas'. I am not sure if this advice is accurate – but what I know for a fact is that two days after our little trek my dad an I both still are only able to climb the hotel stairs walking sideways.